Otto Warmbier, US student sent home from N Korea, dies
|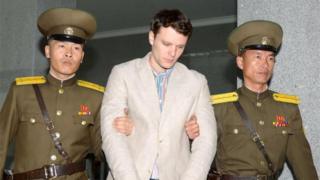 The American student who was released last week after being held in captivity for more than 15 months in North Korea has died, his family says.
Otto Warmbier, 22, returned to the US last Tuesday, but it emerged he had been in a coma for a year.
North Korea said botulism led to the coma, but a team of US doctors who assessed him dispute this account.
Mr Warmbier was sentenced to 15 years of hard labour for attempting to steal a propaganda sign from a hotel.
He had suffered severe brain damage, and was medically evacuated from North Korea on 13 June to a hospital in his home town of Cincinnati. Ohio.
The Warmbier family has blamed his death on what they called the torturous mistreatment he had received at the hands of the North Koreans.
«It is our sad duty to report that our son, Otto Warmbier, has completed his journey home. Surrounded by his loving family, Otto died today at 2:20pm,» a statement from the family said.
It said the student was «unable to speak, unable to see and unable to react to verbal commands».
«Unfortunately, the awful torturous mistreatment our son received at the hands of the North Koreans ensured that no other outcome was possible beyond the sad one we experienced today.»
How harsh is prison in North Korea?
How did Otto Warmbier end up in a coma?
The family only discovered his medical situation in the days leading up to his release.
The economics student from the University of Virginia was travelling in North Korea as a tourist when he was arrested on 2 January 2016.
He appeared emotional at a news conference a month later, in which he tearfully confessed to trying to take the sign as a «trophy» for a US church, adding: «The aim of my task was to harm the motivation and work ethic of the Korean people.»
Foreign detainees in North Korea have previously recanted confessions, saying they were made under pressure.